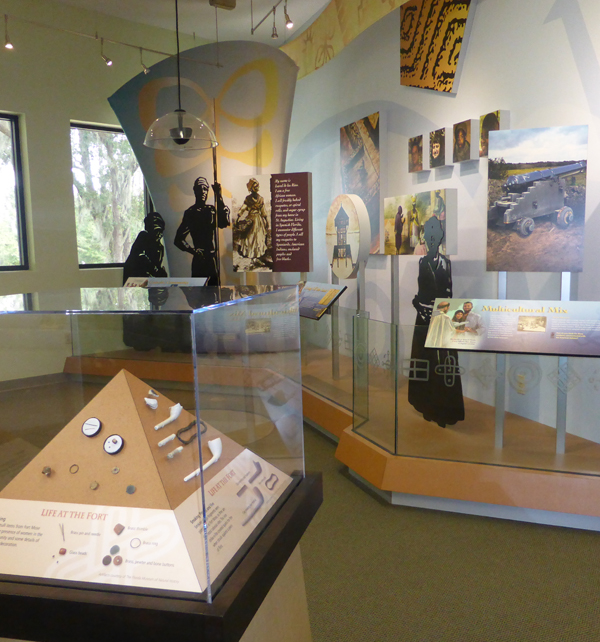 Fort Mose Museum
Both the grounds of Fort Mose Historic State Park, and amenities of its Vistor Center, serve as a 'living history museum' commemorating the legacy and achievement of America's first free black community.

Visitor Center
The Fort Mose Visitor Center houses both a museum and a media
room. In the state-of-the-art museum, visitors can explore the history of Fort Mose by experiencing highly interactive multimedia exhibits, brief historical videos and kiosks displaying artifacts discovered during excavation of the second Fort Mose site. Self-guided tour materials are available.

In the media room, found near the front entrance, visitors can view a video a 12-minute video documenting the dramatic history of Fort Mose from its roots in late 17th century colonial America through its founding in 1738 and the flight of Mose citizens to Cuba in 1763. This video, called Take a Walk Through History!, can also be purchased onsite or online.

Park Grounds
On the walk approaching the Visitor Center, visitors can explore tactile interpretive panels that vividly depict the realities of Fort Mose. Behind the museum, visitors will find replicas of three historic items. These include a chosa or cooking hut, a small historic garden and a small Spanish flat boat called a barca chata.

At the far southern end of the Park, visitors will find a boardwalk
extending into the marsh. At the end of the boardwalk, visitors will find additional interpretive resources. And here, they will view the exact site of the second fort.
To arrange a group visit, please contact Fort Mose Historic State Park office at (904) 823-2232.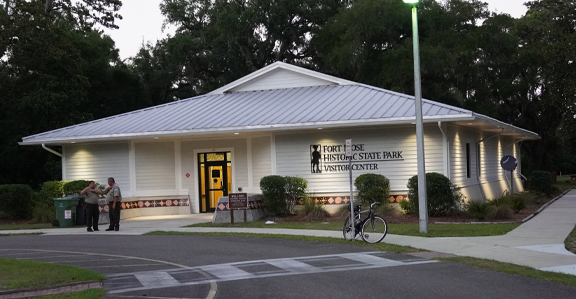 The visitor center is open 9 a.m. to 5 p.m., Thursday through Monday.
The grounds are open daily from 9 a.m. until 5 p.m., 365 days a year.