Fort Mose Historical Society
Presents
 Founders Day

The Founding of Gracia Real de Santa Teresa de Mose

Fort Mose Historic State Park
15 Fort Mose Trail
St. Augustine, FL 32084
March 19, 2022
Please watch this site for more information!
---
Event Highlights
Join in the processions, pageantry and ceremony surrounding the official founding of Gracia Real de Santa Teresa de Mose, or 'Fort Mose', in March, 1738. This marks the 284th anniversary of the historic event, establishing Fort Mose the first free legally sanctioned Black community in land that became the United States..
Join in the celebration commemorating the granting of freedom to community leader Captain Francisco Menendez, members of his free African militia, and members of the community. Witness the official blessing of the site by Franciscan Friar Don Joseph de Leon.
This commemorative event includes reenactors engaged in colonial crafts , weapons demonstrations, and much more.
---
Scheduled & Details

There is no charge to attend this event. Donations and Membership enrollment in Fort Mose Historical Society are gratefully accepted.
There is a charge of $2.00 for adults who wish to explore the Visitors Center museum; children 5 and under enter free.
This event is weather-sensitive. Please check this site frequently for more information!
Did You Know!
Gracia Real de Santa Teresa de Mose, or Fort Mose, was:
Destination of the original Underground Railroad, running south.
First legally sanctioned free Black community in what's now the United States!
Fort Mose Historical Society was founded in 1996, to serve as a Citizen Support Organization (CSO) for Fort Mose Historic State Park.
The Society's mission is 'to tell the Fort Mose story'.
The Real History!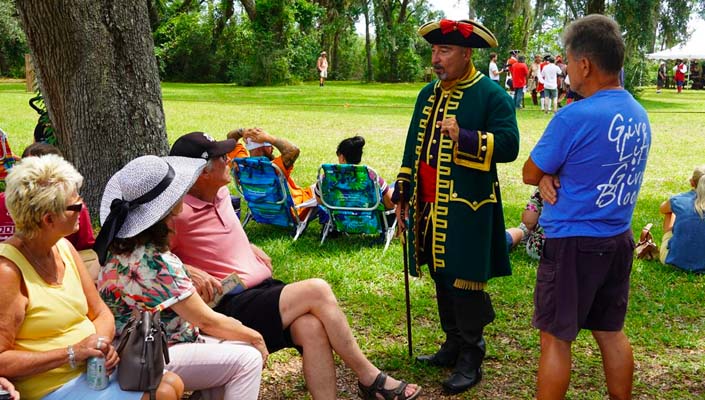 In March 1738, the fortified village of El Pueblo de Gracia Real de Santa Teresa de Mose was established by Don Manuel de Montiano y Luyando, royal governor of Florida. Located just north of the walled city of St. Augustine, Fort Mose became the first legally sanctioned free Black settlement in what is now the continental U.S.
Montiano also named Capitán Menendez, head of Florida's African militia since 1726, as the settlement's leader.
In 1740, Fort Mose militia was instrumental in defending colonial St. Augustine from British occupation. Unfortunately, the Mose fortress and community buildings were destroyed in the brutal conflict, called the Battle of Bloody Mose.
Event Sponsors

This event is supported, in part, by a Arts, Culture & Heritage grant provided by the St. Johns County Tourist Development Council, with support from St. Johns County Cultural Council.
We are also grateful for generous support from our partners at Castillo de San Marcos and The Historic Florida Militia.


We're also grateful for invaluable assistance from our Partners including Castillo de San Marcos, St. Augustine Garrison and numerous reenactor groups who serve as 'opposing forces'.


Fort Mose Historical Society
Incorporate June 26, 1996
25 Years of 'Telling the Fort Mose Story'
Selected Awards & Honors
Site of Memory, UNESCO Slave Route Project
US National Historic Landmark
Site, National Underground Railroad Network to Freedom
Citizen Support Organization of the Year, FL Park Service