National Landmark Fort Mose recreates the
Fort Mose Militia Muster
First Saturday of each month
9.30 am - 11:30 am
Start times may vary slightly

Fort Mose Historic State Park
15 Fort Mose Trail
St. Augustine, FL

Please note — this event is weather-sensitive.
Watch this site for updates!
Event Highlights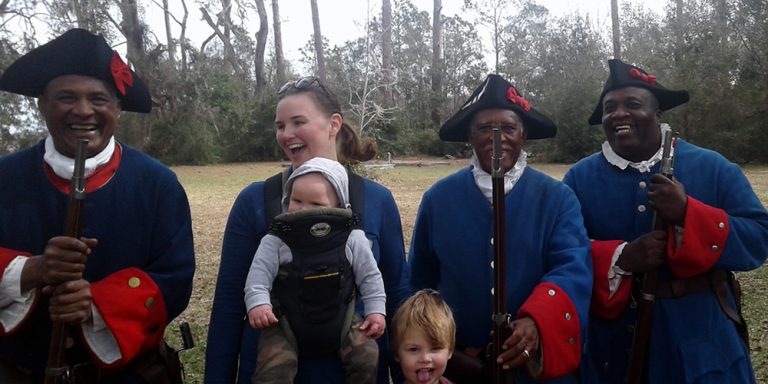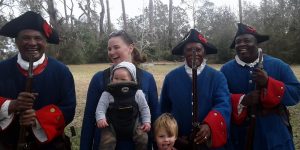 Join us each first Saturday. Unfold your lawn chair, settle in and travel back to the year 1738 to witness Fort Mose militia at drill, complete with musket firing.
Afterward, you can enjoy an informal chat with our reenactors — they just love to 'tell the story'! Ask about the original Underground Railroad that led directly to Fort Mose, or the Battle of Bloody Mose in which the British were soundly defeated by allied African, Spanish and Native forces.
Occasionally and upon request, we're able to offer militia training to youth, using non-firing wooden guns that are safe for handling.
---
Did You Know?
Gracia Real de Santa Teresa de Mose, or Fort Mose, was:
Destination of the original Underground Railroad, running south.
The first legal free Black community in North America, and inland that became the United States!
Event Schedule & Details
This event is available at no cost to the general public. Donations and enrollment as a member of Fort Mose Historical Society are greatly appreciated.
While on site, visit the Fort Mose Historic State Park museum. Admission is $2. Children under 6 are admitted free-of-charge.
---
Sponsorship
The militia muster is sponsored by Fort Mose Historical Society in partnership with Fort Mose Historic State Park.
We're also grateful for invaluable assistance from our Partners including Castillo de San Marcos, St. Augustine Garrison and numerous reenactor groups who serve as 'opposing forces'.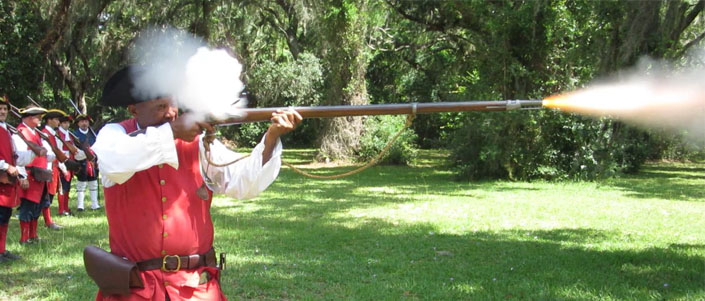 Visitor Parking

On-site parking is available.

Selected Awards & Honors
Site of Memory, UNESCO Slave Route Project
US National Historic Landmark
Site, National Underground Railroad Network to Freedom
Citizen Support Organization of the Year, FL Park Service