Fort Mose Historical Society
Presents
The 10th Annual
Fort Mose Annual Golf Tournament 
Marsh Creek Golf and Country Club
169 Marshside Drive
St. Augustine, FL 32080
May 9, 2022
12:00pm- 7:00pm

Did You Know!
Gracia Real de Santa Teresa de Mose, or Fort Mose, was:
Destination of the original Underground Railroad, running south.
First legally sanctioned free Black community in what's now the United States!
Food Services
Fort Mose Historical Society will provide:
A pre-game snack
Awards Presentation and dinner
Parking
Ample parking is available in the Marsh Creek Clubhouse lot.
Event Sponsors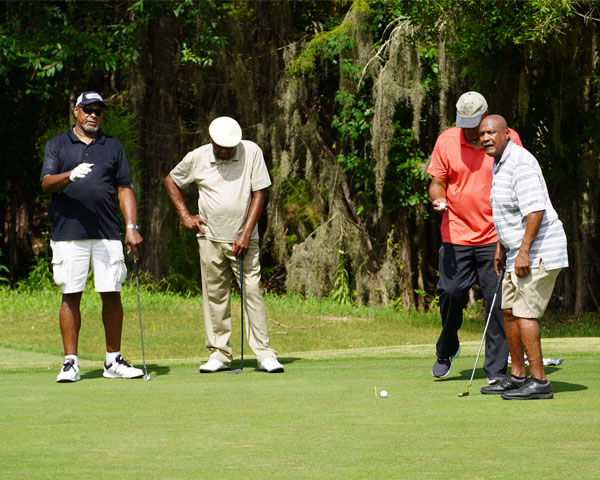 Business, Group & Individual Sponsors
Island Doctors
The Bailey Group
Ameris Bank
Burkhardt Sales & Services
Coldwell Banker Premier Properties
Pop-a-Lock, Inc.
John Valdes & Associates, Inc.
Alpha Southeast Civil Engineering
NTE Energy
Northrop Grumman
Wells Fargo
American Legion
Jim & Rose Griffin
Dr. Erik T. Mitchell
Green/Tea Box
Viola & Henry White
Twila Hudson
Sedrick Lee
Harold Dockins
Mildred Williams
Thomas Jackson
Ken McGuire Auto Service

Fort Mose Historical Society, a 501 (c) (3) non-profit educational
and charitable organization, is the Citizen Support Organization for
Fort Mose Historic State Park.
Our Mission is to support the Park and to 'tell the Fort Mose Story'. 
Selected Awards & Honors
Site of Memory, UNESCO Slave Route Project
US National Historic Landmark
Site, National Underground Railroad Network to Freedom
Citizen Support Organization of the Year, FL Park Service