Bloody Battle of Fort Mose
June 15, 2019 @ 9:00 am

-

4:00 pm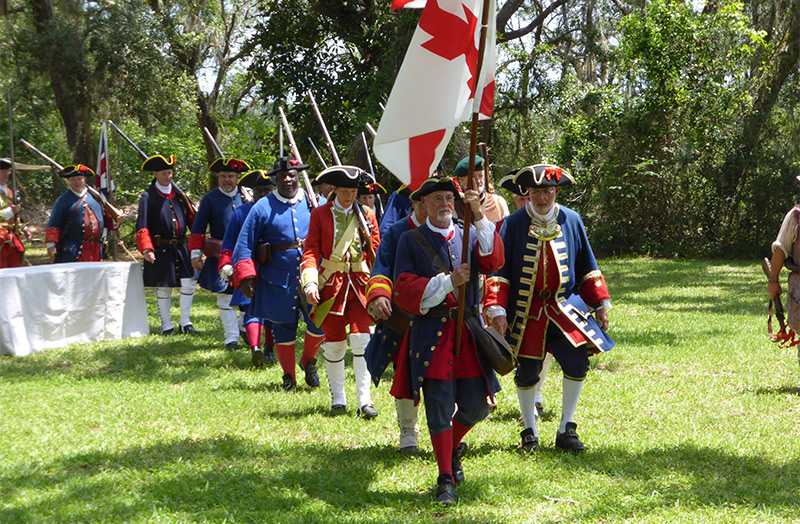 The 1740 Spanish victory at the Battle of Bloody Mose is reenacted annually in St. Augustine. This will be the 277th anniversary of the battle, and the event will be presented by Florida Living History, Inc., and the Fort Mose Historical Society from 9:00 a.m. to 4:00 p.m. on Saturday, June 15, 2019, at Fort Mose, just north of historic St. Augustine.
Visitors can participate in the commemoration of the battle and enjoy reenactments of the 1740 battle that forced the British to retreat from Spanish Florida. Reenactments of the battle itself will take place at 12:00 noon and at 2:00 p.m. Other activities occur throughout the day, with musket demonstrations and colonial Florida craft-making stations, including blacksmithing, 18th-century foods, finger weaving, and pine needle basket weaving. There will also be a variety of free children's activities, plus food and craft vendors.
Before and after the battle, visitors can enjoy interacting with volunteers in period dress while they step back in time and experience what it was like on the fateful day before the big battle between the British, who were occupying Fort Mose, and the Spanish from the Castillo. Scenes include Yamassee natives preparing for battle, British soldiers planning the surprise attack of the Castillo de San Marcos, and British General Oglethorpe and his forces encamped at Fort Mose.
Admission: The event is free. Admission to park grounds is also free, but there is a $2.00 per adult fee to enter the visitor center. Children under 6 are always free.
When: Saturday, June 15, 2019, from 9:00 a.m. to 4:00 p.m. Battle reenactments at 12:00 and 2:00 p.m.
Where: Fort Mose Historic State Park is located just north of the historic district, at 15 Fort Mose Trail St. Augustine, FL 32084.