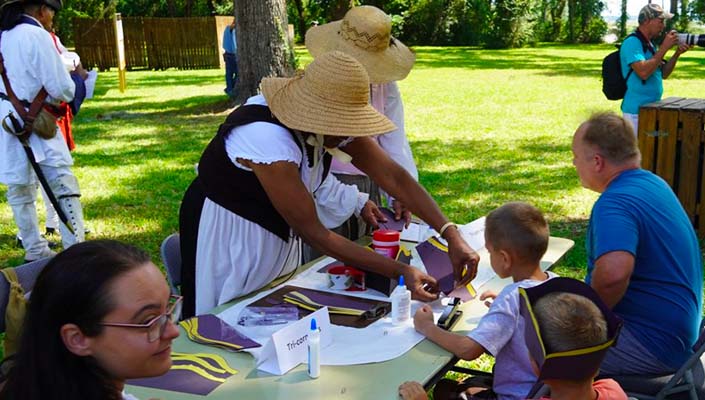 November 6, 2021
Fort Mose Historic State Park
Fort Mose was founded in March 1738. Community citizens labored long hours during the summer and early fall of that year, building their homes and a fort, planting first crops, and tending livestock. They survived on food rations provided by the governor of Spanish St. Augustine until they were able to harvest food from their own gardens.
Harvest Time at Fort Mose celebrates this first harvest and recreates a typical autumn festival within 18th-century Spanish Florida. This is an immersive experience, typically including reenactors in period dress, a farmers' market, colonial cooking demonstrations, food samples, and presentations on local 'fusion' cuisine reflecting Spanish, Native and African influences.
Throughout the day, visitors will witness lively demonstrations by the Fort Mose militia. Many special activities are offered for children and youth such as junior militia training and the making of pottery, beaded leather jewelry, corn husk dolls, and tri-corn hats.

Selected Awards & Honors
Site of Memory, UNESCO Slave Route Project
US National Historic Landmark
Site, National Underground Railroad Network to Freedom
Citizen Support Organization of the Year, FL Park Service